Sale!
QUEST FOR MASTERY LEVEL I
Description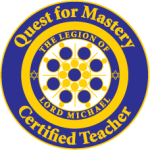 This program is designed for those who are fully intent upon beginning the process of transforming all aspects of their life in order to effectively tread the ascension pathway as quickly as possible, with ease and grace.
Note: Scripting Your Destiny is required for those who want to be certified as Quest For Mastery teachers and is recommended for all students. The Becoming an Alpha Mastery Program is recommended; however, it is not required.
QFM Level I Content:
Group Pyramid
Fifth-dimensional environment with like-minded people
Alpha State Exercise I & II
Enables you to move in and out of the alpha state at will or function at a light alpha level at will
Enables you to maintain a constant level of alpha brain waves tuned into a constant stream of cosmic wisdom which is available to guide, inspire and protect you
Enables you to have a life-changing connection to your Higher Self
Enables you to tap into a cosmic bank of knowledge and wisdom
Enables you to harmonize the right and left hemispheres of your brain
Enables you to access light packets of information in your sacred mind (Alpha State II)
Infinity Breath I & II (Sacred Breathing Technique)
Enables you to cleanse and clear your body of discordant energies
Enables you to initiate the process of opening the higher dimensional levels of your brain
Enables you to access higher frequency levels of consciousness
Enables you to access higher dimensional thought forms of new Creation
Enables you to open the back portal of your heart (Infinity Breath II)
Toning
Helps you move through the transformation/transmutation process with ease and grace
Balances the chakra system
Assists you to access the five higher galactic Rays of God-consciousness
Helps you release impacted thought forms or negative energies
Seven Crystalline Spheres of Higher Consciousness
Create joy, peace and prosperity to enjoy and share
Access your willpower, communication and self-expression
Access your intuition, insight and inner wisdom
Abdominal Breathing
Reduce stress
Detoxify inner organs
Increase blood flow
Increase immunity
Improve excretion of bodily toxins
Improve concentration