Sale!
QUEST FOR MASTERY LEVEL II
Description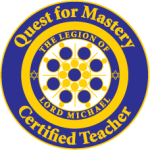 This program is designed for those who are fully intent upon beginning the process of transforming all aspects of their life in order to effectively tread the ascension pathway as quickly as possible, with ease and grace. This audio program qualifies as completion of Level II training to become a certified instructor of the QUEST FOR MASTERY SCHOOL. Final teacher certification is based on satisfactory completion of the certification portion of a webinar or a live event, which will involve presentations by those wanting to be certified.
Note: Scripting Your Destiny is required for those who want to be certified as Quest For Mastery teachers and are recommended for all students. The Becoming an Alpha Master program is recommended; however, it is not required.
QFM Level II:
Universal Laws of Manifestation
Learn how to manifest your dreams/desires
Personal Work Pyramid of Light
Enables you to manifest anything your heart desires in alignment with your divine plan, your highest good, and the highest good of all
Enables you to receive "Divine solutions" for any situation or challenge
Enables you to resolve conflict with someone in your life
Personal Pyramid of Light
Place of healing and nurturance
Place for solitude
Place for refuge
Place of peace and tranquility (No one goes to this pyramid except you, your Higher-Self and your angels)
World Pyramid
You will be assisting beings of Light
You will be assisting Mother Earth
You will be contributing to the highest good of all
The more you share, the more you will be given
Familiarization with Seven Rays of God Consciousness and the Five Higher Rays
Learn about the Rays and using them for balance
Meditations Diamond Core God Cell Mediation
You will be forever changed
A divine transfusion of Light flowing through you and out into the world
Violet Flame
You will be forever changed
A divine transfusion of Light flowing through you and out into the world