Sale!
A BEGINNER'S GUIDE TO MINDFULNESS
A Beginner's Guide To Mindfulness:
The Use and Benefits in Everyday Life
"Supercharge Your Mindfulness Practice By Unlocking The Hidden Benefit That Accelerates Your Results That Much Faster…"
The Benefits of Mindfulness
Mindful Eating
Mindfulness and PTSD
Mindfulness Walking
Mindfulness and Relationships
And So Much More!
Description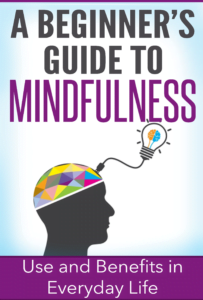 A Beginner's Guide to Mindfulness:
The Use and Benefits in Everyday Life
The Special eBook that will help you
to quiet your mind and teach others
to learn how to quiet their minds
using the same techniques as paid
clinicians and therapists in no time at all!
So what exactly is this going to do for you? Can a simple eBook really turn everything around for you?
Yes. Yes it can.
Here's How A Beginner's Guide to Mindfulness Will Benefit You:
Discover what Mindfulness means: This is good for you because you'll see how to find Inner Peace and become calm (quiet your mind). Learn Self-awareness and have compassion for Self and Others.
Benefits of Mindfulness: Learning the benefits will help your overall well-being in the areas of impulse control improvement, reacting to difficult emotions, improved focus and concentration and so much more!
Mindful Eating: This is important because you'll learn how Mindfulness can work in conjunction with anyone who is obese and wants to participate in Mindful Eating. This is critical to learn in order for your body and mind to be healthy and free from excess weight which can do enormous damage over time.
Mindfulness and PTSD: This is big because PTSD affects thousands of people—not just soldiers returning from war. Some other patients of PTSD trauma are those who have been affected by a car wreck or serious accident, terrorist attack, natural disasters, etc.   These methods will allow you to see PTSD in another light by using Mindfulness as a method of healing.
Mindfulness and Walking: This is a way to turn your everyday walk, either pleasure or walk to work, into a time for some Mindfulness by clearing your thoughts and taking in everything surrounding you on that walk. This is a good thing because it exposes the secret to using Mindfulness in such a way that you won't feel as if you are walking but instead reaching inside and almost meditating about everything you see, smell, hear on that walk.
Mindfulness and Relationships: All people, at one time in their life or another, are either currently in or have been in a relationship. By using Mindfulness, you will experience a more satisfying relationship.  Become more optimistic about your relationship and learn how to relax and enjoy what you share with this other person.  By relationship, we mean anyone with whom you share a relationship in your life including family, friends, co-workers or your significant other.